Amazing how God teaches us so many great things through parables. This is the parable of the Sower.  Read this post that was posted three years ago; it still applies today.
Godly Witnesses For Christ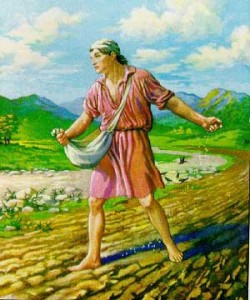 Last night I heard a sermon about the parable of the sower.  I have heard this message before in the past but what was different about this message is that it spoke to me personally.  I have always looked at it as just sowing the word of God by witnessing but as I listened last night I realized it was for the Christian as well.  Let me explain.
Jesus said in Matthew 13:3-8, "Behold, a sower went forth to sow;  And when he sowed, some seeds fell by the way side, and the fowls came and devoured them up:  Some fell upon stony places, where they had not much earth: and forthwith they sprung up, because they had no deepness of earth:  And when the sun was up, they were scorched; and because they had no root, they withered away.  And some fell among thorns; and the thorns sprung…
View original post 341 more words